A 25 year old aircraft technician(avionics) trained in the East African School of Aviation, Kenya and currently pursuing a top up degree in Production and Technology in Denmark.
A member of the executive who is passionate and driven towards aviation and especially in mentoring girls. Aviation is her life. Favorite brands being Airbus and Boeing, that's where she looks forward to work and grow.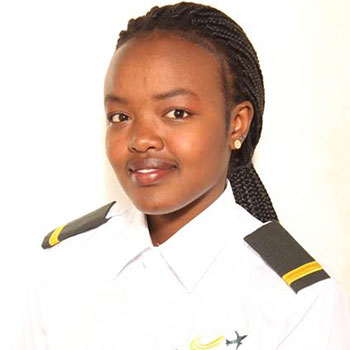 There was a time I gave up on my dream, honestly I really didn't see how I'd get here. One factor that led to my lack of hope is that I was interacting with the wrong group. Sharing my dreams and hopes with the wrong people and in return getting a whole lot of discouragement and negative feedback.
Then I attended my first GIAD event (2016) and the spark was ignited again. Interacting and talking to people who shared my passion gave me hope. On way to stay motivated and keep your desire burning is to have the right people around you. People who get what you are going through, people who have been in a similar situation and people who have achieved that which most may term impossible. Iv come to learn that where there is a will there is a way, for the universe always falls in love with a stubborn heart.
Maureen WAI 55908 joined WAI in 2013 and currently serving as the WAI-Kenya Membership Chairperson (having previously held a role as the Chapter's Secretary while still a college student). She works as an Aircraft Technician with Kenya Airways.
Maureen is WAI's 2018 scholarship recipient of the Bonita Jean-Olson memorial scholarship that has enabled her pursue her aircraft maintenance license certifications.
Maureen grew up with aspirations to be an aviatrix and to travel the world. She stumbled upon a career in Aircraft Maintenance and Engineering because of her love for Airplanes and Science-a career which she enjoys and has found great fulfillment in amidst all the trials and tribulations that comes with pursuing such a career and working in a male dominated career. WAI has not only been a great source of inspiration but she also found amazing mentors, mentees and a great family of like-minded individuals-her favorite thing about WAI is and will always be GIAD! In her own words "I can never sleep the night before GIAD, as a young girl I always dreamt of such an opportunity-so for me this is more than just a day, it is a special exciting time of the year because on this day some girls dreams come alive!"
Maureen's aspiration in life is inspiring young girls and her peers (both male and female) to go after their dreams especially in STEM Aviation careers and to shutter the glass ceiling, biggest motivation in life is the Bible and favorite quote is by Amelia Earhart:
"What do dreams know of boundaries?"
As they say "in life you are either a passenger or a pilot, it's your choice." I chose to be the pilot and not the passenger because I don't want to watch a difference being made, I want to be the reason and the person who makes the difference.
I am an aviation lover and I very much support gender equality. When I last went on a flight a few years back, the pilots would stand outside and greet us and all flights, and both the pilots were men.
Jambo! My name is Mahek Shah and I am a 15-year-old aviation enthusiast living in Kenya. I was really shocked when I was told that I am the youngest member WAI had. I want this to change. I want more girls to be exposed & aware about not only the pilot career but the aviation industry.
When I began researching I found out that only 3-6% of the pilots in the world are female. When I researched the cause of this, I found out that most women are not exposed to the aviation careers and most families want their girls to take up "women like careers."
Because of the love I have for aviation – specifically the Pilot Career, I chose my school project to be called Wings for Women. Wings for Women based in Mombasa, Kenya is an initiative where we spread awareness about the pilot career to teenage girls.
This project caused me to research a lot and this is where I found Women in Aviation international. And I immediately I joined it. #GIAD2018 was one of the best experiences ever for me. We- the Kenya family of women in aviation had first-hand experience to how JKIA works behind the scenes. We also got to meet a lot of amazing women with different professions in aviation and they inspired us to be the best version of our selves. This experience for sure has inspired all the girls to take on a career or the other in the industry.
I had A LOT of fun, I learnt A LOT and most importantly I officially joined the Kenyan family of WAI!! I am also very happy to say that this experience has motivated me to make my Wings For Women project even bigger and better. I am proud to be #iamwai. It is true when Raymonde De Laroche said that "flying is the best possible thing for women."