Co-founder
Una Gertrude Odhiambo
Flight Dispatcher
Co founder Women In Aviation Kenya Chapter.
Member IFALDA and KAFDA. Operations Manager at Airkenya Express Ltd. With 14 years experience in aviation. Graduated with BBM in Aviation Management. Mentors young girls in aviation.
One dazzling Friday morning we had an educational tour to Eldoret International Trip for computer science students while in High School. Indeed it was a story of killing two birds with one stone. I was fascinated when I saw big cargo planes parked at the ramp. We had gone to learn more about mainframe computers, but my focus changed to Aircraft…"Love at first sight" This was my path into the aviation industry.
I went to Skypath Aviation College where I pursued Advanced Diploma in Flight Operations and Dispatch for two years. After a week I landed a job in Tanzania as a Flight Dispatcher. My experience in Dar es Salaam was entrancing; I had amazing opportunities at my youthful age but not to say I did not face challenges.
The aviation industry in Africa and more specifically East Africa had not budded and hence opportunities for growth. Again a door opened for me to progress and learn more on Aviation Management. Enrolled for Bachelor in Aviation Management – Moi university. Again it was four years of great knowledge, practical experience and having a wide spectrum of what it means by running an airline, Regulatory aspect and how I could contribute in the growth of aviation.
After graduating from Moi University, my friend Fiona Omondi and I began this journey of exploring more into aviation and creating awareness to those not privileged to know what careers are in aviation and what it takes for them to pursue such careers after high school.
We learned about Women in Aviation and strategized on using this vehicle to mentor young men and Women and especially young girls to pursue careers in aviation. We were later joined by other professionals in reaching out to young girls and boys.
I can say I'm successful when I'm able to hold the hand of that young girl dreaming to become a pilot, Flight dispatcher, Engineer, Cabin crew, Safety and security personnel realize their dream through mentorship programs and educative events organized by Women in Aviation. When members get scholarship opportunities and have their lifetime career growth and great experience, I feel I have accomplished.
I advocate for young girls to take up careers in aviation industry for there is a gap that needs to be filled.
My job as an Operations Manager is quite challenging yet fulfilling especially when a service has been provided satisfactorily and in a safe way. I have almost 10 years' experience as a flight dispatcher, it is a thrilling and exciting career.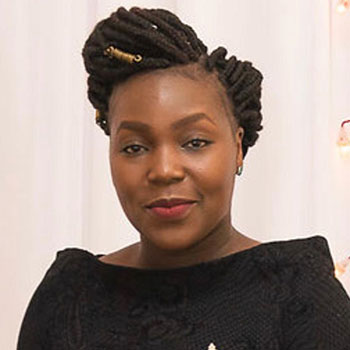 Co-founder
Fiona Omondi is an enthusiastic Aviator, currently Head of Business Development & Projects at Tradewinds Aviation Services Ltd, a privately owned Ground Handling company operating in the Kenyan aviation industry.
She prides herself on her sufficient experience in business development and project management, across Aviation Training and Ground handling.
She holds a Masters In Business Management from the University of Aberdeen-UK, a Bachelor's degree of Business Management in Aviation from MOI University, and a Certificate in Flight Dispatch from East african School of Aviation.
She is also the Co-founder Founder of Women in Aviation- Kenya Chapter which was founded in 2012, aimed at bridging the gender gap in the Aviation Industry, something very close to her heart.  A wife,  mother of two, mentor, she loves traveling, cooking and is one heck of a dancer.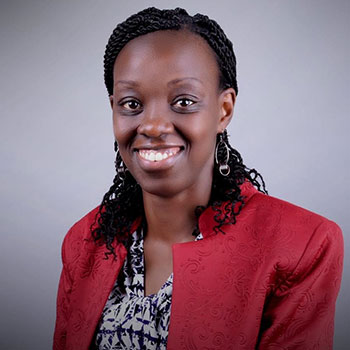 Financier
Mary Mukulu Kai
One day while pursuing my college degree I received an email informing me that I was short listed for a scholarship that I had applied for.  Three candidates had been shortlisted and we were going to be interviewed during the annual conference that was held in Nashville, Tennessee, to determine the recipient of the scholarship.
The organization was going to pay for my accommodation and meals but I had to find my way to the conference. The good news was that the university I attended had a chapter and they were willing to give me a ride to the conference. I was really excited to hear about the news. Attending the conference for Women in Aviation, International increased my love for Aviation and started my journey as a WIA member. I won the Airbus leadership award/scholarship and the following year AOPA scholarship.
I received my undergraduate degree in B.Sc. in Aeronautics-Aviation Management together with my FAA CPL Multi with an Instrument Rating; from St. Louis University. I managed to convert my license to a Kenyan License.
I flew a LET 410 for a company called Aero Kenya at Wilson Airport. At Kenya Airways I joined as a second officer on the Boeing 737 and graduated to a first officer once I finished my training. I flew the Boeing 767 and 777 as a first officer. I became a Captain and flew a Boeing 737. I flew for the airline for thirteen years and I loved the time I was there and I cherish the experience I received with the Pride of Africa.
I graduated with a Masters in Business Administration (MBA) a few years later from University of Leicester.
Fiona and Una approached me while I was a first officer on the B77, with an idea to start a WIAI, Kenyan chapter. This was the beginning of my journey with the Kenyan Chapter. I love to mentor young girls who want to pursue a career in aviation.
One of my highlights as a WAI, Kenyan chapter member was during our first Girls in Aviation Day. We had taken the girls to the Jomo Kenyatta ATC Tower and after a detailed tour one of the girls approached me and asked, "What can I do to become one of those people?" and she pointed out to an Air Traffic Controller. At that moment I felt my work has been done. We have managed to motivate one girl. Yes!!!!!!!!
I took a nine month course called Female Future in conjunction with Norwegian and Kenyan government. This course challenged us to maximize on our potential and this caused me to venture out into running our charter company at Wilson Airport. I am loving this space and looking forward to see what else the future holds
Chairperson
Irene Koki Mutungi
Airline Captain
A member of Women In aviation International since1998 to date Capt. Koki has been a focal point in mentorship of young girls in Aviation. Is a professional pilot in Kenya, she was the first female on the African continent to become certified as a Captain of the Boeing 787 "Dreamliner" aircraft
She flies for Kenya Airways, the national airline of Kenya.
At the age of 17 years, she enrolled in flight school at Nairobi's Wilson Airport, where she obtained her Private Pilot's License. She continued her pilot education in Oklahoma City in the United States where she was awarded the Commercial Pilot's License, by the Federal Aviation Authority.
She returned to Kenya in 1995 did some flying for General Aviation and was then hired by Kenya Airways, as their first female pilot. She was the only female pilot at the airline for the next six years. In 2004, she became the first African woman to qualify to captain a commercial aircraft, when she qualified to command the Boeing 737. She has since qualified to command the Boeing 767. She then took the conversion course which allowed her to transition to commanding a Boeing 787 Dreamliner. Kenya Airways then promoted her to Captain of the B787, making her the first African female Boeing 787 Captain in the world. Her employer made that announcement on 15 April 2014.
Her motivation to become a commercial pilot was developed when she was five years old, by observing her father, a pilot for Kenya Airways at that time. Captain Mutungi, who is the mother of one son born circa 2006, enjoys flying and mentoring others, especially female pilots. In September 2014, Mutungi was one of 39 pilots at Kenya Airways, out of a total of 530 and she was the designated Captain on the Nairobi to Paris route on the B787.
She is a mother to two amazing boys and in December 2014, was named among "The 20 Youngest Power Women In Africa 2014", by Forbes Magazine. She was also ranked in the Top Forty under Forty since the inception of the award, for 5 consecutive years.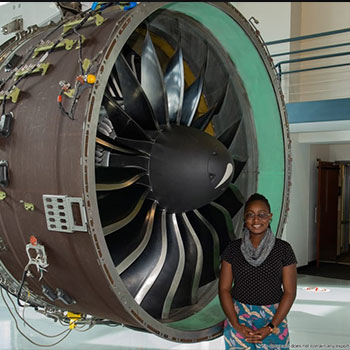 Secretary
Primerose Njeri
My name is Primerose Njeri.I became a member of Women in Aviation,Kenya chapter in 2016.I currently sit in the capacity of a Secretary among the officials.
Women in Aviation has been more than a blessing in my life.I got to learn about it through one member's outreach as embedded in all members, and in the spirit of making WAI a household name in Aviation in Kenya.
A coffee date was enough to let me know all about WAI, and my mind was set to get my membership sorted.I did, and I've never turned back since.
Resilience is key in any career, but you'd need a lot of it in Aviation.I applied for scholarships in the first year of my membership, and unfortunately it didn't bear much fruit.My breakthrough however came in my second year of membership.I received the highly coveted Pratt and Whitney maintenance scholarship in the year 2018,1 among 5 awarded that year.
I was well trained about both Line and Base maintenance of the PW1500G-C series geared turbo fan engines. I now work as an Aircraft Maintenance Technician in Wilson Airport, having completed a Diploma in Aeronautical Engineering,Airframes and Engines option at the East Africa School of Aviation, among other trainings.
WAI has enabled me to see a young girl's dream who once took a photo next to a small aircraft in an airstrip in Nanyuki, come to life while fixing big aircrafts now, and only aiming for even bigger aircrafts, and better challenges.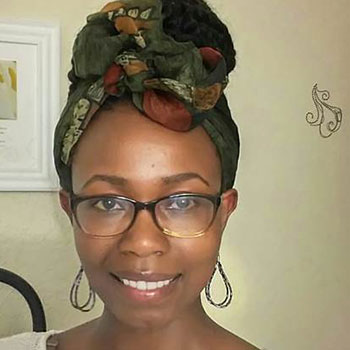 Faith Syovata joined WAI as a university student and has been a member since late 2014. She currently serves as the treasurer in the WAI_Kenya chapter.
She studied Civil Aviation as part of her undergraduate degree, with a keen interest in flight operations. She has worked with the Kenya Civil Aviation Authority and continues to be passionate about aviation. She is actively involved in mentorships programs that work with young girls especially from disadvantaged backgrounds in providing better opportunities.
Her hobbies include, playing the violin and chess.
Outreach Chair
Emily Manduku
Hey, I'm Emily Manduku a member of WAI-Kenya Chapter since 2017. I am grateful for the opportunity to serve in the capacity of Outreach Chair in our ever growing chapter. I first learnt about WAI from the website and was glad to find a chapter right at home in Kenya.
I joined at what was one of my lowest moments in Aviation. Having been retrenched from a Flight attendant job that I had loved for 14 years, I tried my hand in many things but realized I needed to stay true to my first love, Aviation.
I went back to school to pursue a Flight Operations and Dispatch diploma course. It was during my internship that I joined WAI.
My first meeting with the WAI family here was during the GIAD (Girls in Aviation Day) of that year. I was convinced that I had finally met my 'tribe'. Some were new faces but I had known most previously.
The sharing, networking and mentoring we did, opened my eyes to a new world of aviation 'passionates', enthusiasts and professionals. I am challenged, intrigued and mostly inspired by the ladies here through their journeys in aviation and WAI. I have witnessed successful WAI Scholarship applications by some of our chapter members, a much appreciated opportunity platform by WAI.
My goal is to reach out and inspire more girls to take up aviation as a career because they are capable and also to bridge the gender gap in aviation in Kenya. I currently serve in our national CAA as a Flight Operations Inspector-Cabin Safety, a demanding but fulfilling job. In my spare time, I enjoy reading and working-out beside being a mom to my boys.
Social Media and Communication's Expert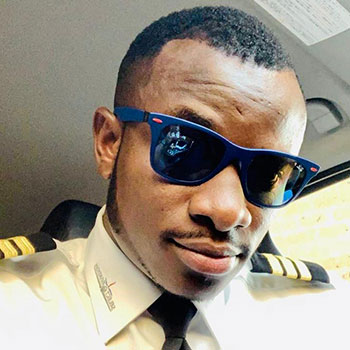 Social Media and Communication's Expert
Frank Nyawa
A Pilot & a PR strategist
My journey as a pilot came to reality when I met Capt. Mary Kai, a 737 former KQ Captain, who is also a member of WAI Kenya.
I met Capt. Mary while doing a PR job for a business forum & when I registered her details, I found out that she was a senior pilot for Kenya Airways.
That was way back but to cut the long story short she found out that I couldn't afford to pay for my flying and she decided to help me by registering me in WAI with the aim of applying for a scholarship. As a WAI member in Kenya Chapter, I volunteered to be the social media strategist and created and managed all their social media platforms (to date 😉).
I applied for scholarships but sadly Didn't get any however I met so many pilots who together with Captain Mary started mentoring me. Notably was Capt. Koki, 787 KQ Captain & my Capt. Rye Thompson, 747 Pilot of United Airlines.
The dream became much more real when I met Rye Thompson who took a lot of of his time to help me actualize it. Rye Thompson enrolled me at FTC, Wilson Airport, paid for my ground school and bought me the entire pilot kit & from there the rest is history. Got a job as marketing manager for Magna Kenya & used most of my earnings to pay for my flying. I later joined Select Aviation in Canada then Flyby in Spain.
Lastly I would like thank Capt. Mary Kai for her mentorship and most importantly enrolling me to WAI where I met Capt. Rye Thompson who is one of more of a brother and family to me. Not forgetting Capt. Koki and Loise who encouraged me during my early stages as a pilot student. Let's not forget the president of WAI Kenya Chapter, Unah Getrude, who always gave me a listening ear throughout my student life as a pilot & was always ready to network me with like-minded pilots.
Former Chairperson
Loise Njoroge
Loise is currently the acting State Safety Program Coordinator at Kenya Civil Aviation Authority (KCAA). Before her transfer to the Aviation Safety & Regulation Directorate, she was a Senior Air Traffic Controller at KCAA with 12 years' experience in Aerodrome, Approach procedural and Approach Radar control.
She is also the CANSO (Civil Aviation Navigation Services Organization) Focal Point for KCAA where she provides a crucial link between the organization, industry stakeholders and the Authority. She graduated in 2016 with an M.Sc. in Aeronautics from Embry-Riddle Aeronautical University (ERAU) in Florida, specializing in Aerospace/Aviation Safety Systems. While studying for her masters, she won several awards including the ERAU Chief academic officer's top 10 award, the Boeing career enhancement scholarship, Airbus Leadership Grant for exemplary community leadership (both courtesy of WAI) and the Jacque Burdette scholarship from Professional Women Controllers Inc.
Loise previously worked at the International Civil Aviation Organization (ICAO) on an International Aviation Women Association (IAWA) Scholarship from October 2017 – June 2018.  She started her assignment in ICAO's Eastern and Southern African Regional Office in Nairobi in order to become acquainted with the work of ICAO in the region.  She then moved to ICAO Headquarters in Montreal, where she worked in the Airspace Management and Optimization Section (AMO) in the Air Navigation Bureau.
Loise is passionate about Aviation and is involved in mentorship programs in girls' secondary schools in Kenya to encourage more girls aspire for careers in aviation by exposing them to female pilots, engineers, controllers, etc. She served as the outreach chair (2015-2018) and the Chairlady (2019) for Women In Aviation International (WAI) – Kenya Chapter and was also the Vice President- Technical & Operations for the Kenya Air Traffic Controllers' Association. (2015-2017)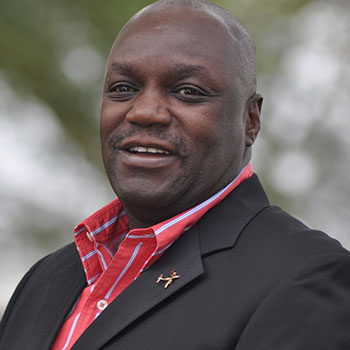 Patron
Hon John Ogutu Omondi
A passionate Aviator, Women and Girls' Empowerment Champion!!!
WAI-Kenya Chapter PATRON Hon John Ogutu Omondi has been a member of  Women in Aviation International since 2005 and a founder member of WAI Kenya chapter since 2012.
He is the former Member of National assembly for Embakasi East constituency, and  the Co-founder of Tradewinds Aviation Services with a strong background in Passenger Handling spanning to over 30 years. With experience working with Executive jet and Pan AM Airlines, he founded a Ground Handling company at JKIA named Peck Air, and  later merged with Barry Tomlinson to form Tradewinds Aviation Services some 15 years ago.